※日本語のアルバム紹介記事はこちら→https://khufrudamonotes.com/decade
※Discography→https://khufrudamonotes.com/discography-english
---
Hello, I'm Yoshito Kimura from KHUFRUDAMO NOTES.
We released the 2nd album "DECADE" at last!
DECADE by KHUFRUDAMO NOTES
Album • 2020 • 19 Songs • 70 mins
It's a huge volume with 19 songs.
DECADE
The word "DECADE" in the album title means "10 years".
As the name implies, we've re-arranged and mixed some of the songs we've made in the last 10 years that weren't included in the first FRUIT BASKET album.
Unless it's the best album, I think it's rare to see songs that were produced at different times for 10 years on a single album.
I think this album is a mixture of songs from many different directions, so please give it a listen.
It contains 10 years of my life. LOL.
How to listen to the album
You can listen to all the songs on various distribution services.
There are some that don't have videos now,
but we will release them in some form in the future.
Songs
We talked about the album in this video below.
(It's in Japanese.)
1.KEGON
This is the last song I wrote for this album. It's also the first song I made this year in 2020.
Initially, we didn't plan to record this song.
However, I know that there is a lot of anticipation for "Japanese Djent".
That's why I thought it would be sad if there wasn't a single song on the album… so I made it.
And then I came up with a good song that was so much better than I expected it to be.
As a result, I decided to make it the lead track of the album.
Music scores download here↓
KEGON – Music scores
2.Silent Authority
This is my favorite song of all the songs with vocals in it.
Initially, I was going to use this song as the lead track.
It was about seven or eight years ago when I wrote it, and I couldn't finish this song the way I wanted to with the technology I had at the time, so I let it lie for a long time.
It's epic, it's got momentum, it's progressive but it's catchy and it's very much my favorite song.
Co-written with PHEZANT member and "S2NOISE(love noise) Tatsuki Okada.
Music scores download here↓
Silent Authority – Music scores(pdf)
3.レディムラサキ(Lady Murasaki)
This is also a Japanese style song, but it's a fusion of Japanese style, rock and EDM.
This song is a cover of a band I used to support called Land Roll Supermarket.
Even after the band broke up in 2015, the members have remained close to me. In the past,
I've asked Ayaka, who used to be my vocalist, to sing for me with AKATSUKI and SHINKIRO of KHUFRUDAMO NOTES.
Currently, Shohei Adachi is the guitarist of the female vocal anison-type rock band "Diamond Lily" from Tokyo.
Ayaka is the vocalist of a band called "Hakko".
But this time, we decided to play old songs together as guests at KHUFRUDAMO NOTES, and we decided to make this work.
4.ECLIPSE
The concept of this song is to mix the heavy sound of the 7-string guitar in drop A with the mystique of Lydian mode.
It was created in 2016.
It uses a guitar created by Akifumi Naiki.
I want you to feel the worldview of the song, with its heavy bass and mysterious atmosphere.
Music scores download here↓
ECLIPSE – Music scores(pdf)
5.陰翳(INEI)
This is a song with a shuffle rhythm and a slightly darker texture,
which I wrote around the same time as AKATSUKI, so I wrote it in 2015.
6.Event Horizon
Created around 2016.
The concept of this song was to create a guitar instrumental with a mix of band sounds and electro sounds.
It's simple but stylish and I love it.
7.Doomsday
Vocaloid song. It's not as much as NEXUS, but it key change a lot in the song. LOL.
8.Romantic Realist


This is a guitar instrumental that revolves around a five-beat tapping phrase.
I've also other rhythm ideas using complex time signatures.
9.きみとふたり(Kimi to futari)
The song was inspired by a tanka poem,
「問十二 夜空の青を微分せよ 街の明りは無視してもよい」(川北天華)
 
"Q12. Differentiate the blue of the night sky, you can ignore the lights of the city."
-Yuki Kitakawa
10.Moment
Collaboration work with Shohei Adachi of Diamond Lily, who composed Lady Murasaki.
I made it in about 2016.
But the mix wasn't convinced, and we were making videos, and the release was stretched and stretched, and it was 2020.
I tried to do something animated in the MV, but it was harder than I thought…!
11.Absurd Reflection
I asked Taisuke to join me as a guitar solo in 2013 or so.
The best part is the interplay between my keyboard and Taisuke's guitar solo.
12.Cataclysm
The oldest song of KHUFRUDAMO NOTES.
I made it 10 years ago in 2010 with Akifumi Naiki in a session.
It plays and sounds rough, but it's a memorable song for me personally.
13.アイ(AI)
The oldest song I ever wrote using a vocaloid, composed in 2012.
It's the second oldest song on the album.
14.Day Of The Dead
It's a compact progressive metal instrumental.
Built to fit in 111 seconds (1:51).
15.Salt Confectionery
Here's the audio that Akifumi Naiki sent me.
I added an accompaniment to it.
It's a pretty goofy song.
You don't have to listen to this one song separately. LOL.
16.BA NA SU
I wanted to create a dope atmosphere with a song that could get you excited quickly.
Before going to the drop, Akifumi Naiki politely declares,
"I'm going to play the bass note."
17.Twilight
The song has a like future-base sound to it.
I decided to end the album with this song because I thought, "This is the only song that can be closed with a chill atmosphere".
This song is an unusual choice for KHUFRUDAMO NOTES to not include a guitar.
I thought…but neither "BA NA SU" nor "Salt Confectionery" has a guitar on it. LOL.
18.Silent Authority – Instrumental
This is an instrumental version of Silent Authority.
19.KEGON – Bonus track
This is a bonus track without the guitar from KEGON.
List of places to listen
You can listen to it on various distribution services!
DECADE by KHUFRUDAMO NOTES
Album • 2020 • 19 Songs • 70 mins
It's also available on bandcamp.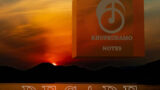 DECADE, by KHUFRUDAMO NOTES
19 track album
I don't have the full song yet, but I do have a Youtube playlist.